What is a slab leak and how do I know if I have one? When do I need to call a slab leak detection specialist? Slab leaks can cause huge problems for home and business owners.
Knowing how to look for one can save you a ton of time and money. In this post will cover where slab leaks happen and some of the signs to look for helping you avoid a bigger issue down the road.
What is a Slab Leak?
The term "slab leak" is used in the plumbing field to describe a leak that is in a line under the concrete. The same type of leak can happen above ground in walls and ceilings, but are usually called "pinhole leaks".
Most plumbing pipe is made of copper and over time these pipes can start to corrode. This is usually where a leak can occur and cause water damage to your home or office.
Slab leaks are either on the pressure side or on the drainage side. Pressure side leaks are a little easier to find and can be fixed relatively quickly. Drainage side leak is a lot harder to detect and can sometimes cause a lot of damage to the home or property.
The biggest problem with a drainage side leaks is that these leaks can go unnoticed for very long periods of time. Only until there are big signs of damage, like sinkholes in the yard or the foundation of the home is sinking or cracking.
 Why Slab Leaks Happen
A copper pipe carries water from the main line that is out in the street into the home. Older homes were installed with a copper pipe throughout the home. During construction, pipes can get damaged like small dents and creases where over time this will create pinhole leaks.
Copper lines in the ground are susceptible to leaking because of ground movement. Small moves in the ground can cause a line to bend or it will apply pressure from the surrounding dirt causing it to break or rupture.
Contractors try to prevent this from happening especially when placed under the slab foundation. Once water pressure is applied to the home the damaged areas of the pipe become weak points. Over time this will end up causing a leak in your water line.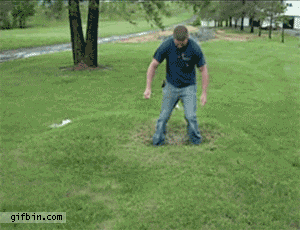 What To Look For
Sounds of running water – With everything turned off in the house and no sinks or showers running. Check and listen for running water. Some homeowners will notice hearing running water after they lay down to go to sleep.
Water Bill –  If you notice an abnormally high water bill, This could be the first indication of a slab leak without showing any type of physical sign.
Mold or Mildew – This is a very important indication of some type of leak in the home or business. Musky smells of mildew or signs of mold growth would indicate that you could possibly have a water leak.
Water Meter – Find your water main and check the gauge on it. With no water running in the home this gauge should not be moving. If it is, this is an indication that you may have a leak.
Wet concrete or Pooling water – If you have a spot of concrete that looks wet or damp this is a sign of a slab leak. Pooling water around the foundation and yard is another sign of a water leak.
Signs Of A Slab Leak
Some slab leaks at first can go unnoticed for some time before a true sign of a leak shows up. If the leak is under the concrete slab, it can take several days or weeks to show you signs of a leak.
Some leaks can show it's self within a few mins or even hours after the line is ruptured. Water leaks under dirt can be very destructive. They can move dirt and rock very quickly causing sinkholes and pools of water in yards.
Below are a couple of common signs to look for that could indicate that you have a slab leak. With any of these signs, you may want to call your local leak detection specialist.
Slab leaks can become big problems if not taken care of. Water is a very destructive force and can create sinkhole crack foundations and cost the homeowner a lot of money if not fixed fast.
Many times leaks can be located and fixed and very little damage is done to the home or business. Most home and business insurance cover slab leaks but we recommend calling your agent before doing any major repair or work.
If you suspect that you have a slab leak or any leak, give Utah Leak Locate a call. We have saved home and business owner a ton of time and money by coming in and find your leak fast!
At Utah Leak Locate we guarantee we will be able to locate your leak, or you pay nothing. If you have any question please feel free to give us a call at (801) 613-0969 or visit us at utahleaklocate.com